What is said about us in Asia
Global Private Banking Awards 2020: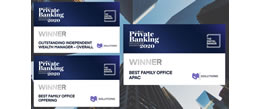 "We applaud the impressive suite of services and holistic approach…The full-suite of wealth managements and corporate advisory such as M&A, strategic partnership and real estate showcases the diversity in expertise across LCA's team."
WealthBriefing Asia 2020 Award:
Family Office Management Consultancy

"LCA's strong family business focus and understanding of the full requirements of families' wealth is particularly striking, and clearly relevant in a region where so much business and wealth is family-controlled."
WealthBriefing Asia 2020 Award:
Best Family Office Wealth Advisory Offering

"LCA's focuses on being a one-stop shop, not only covering traditional private banking but also areas such as corporate banking and advisory solutions for the overall family business. As owners of their own business, LCA understands the needs and requirements of entrepreneurs looking to expand their strategic footprints."
WealthBriefing Asia 2020 Award:
Best Independent Wealth Manager

"LCA's ability to show clients that it focuses on servicing their needs and advising them of what is best for them, rather than representing the interests of providers that are trying to sell them a service. It was this emphasis on not selling investment products but sourcing solutions to investment needs that really caught the judges' eyes." .
WealthBriefing Asia 2020 Award:
Best M&A Advisor

"As owners of their own business, they understand the emotional side of corporate deals. LCA's strength lies in its ability to fully execute the M&A deal but also help the family go through the emotional difficulties of letting go and establishing the foundations for a family office, post liquidity event."
WealthBriefing Asia 2019 Award:
Best Family Office Services Greater China

"As a "One stop solution centre", our winner helps clients address the various issues they face in relation to what can be their biggest asset: The Family Business. This can range from pure corporate banking needs, to corporate advisory solutions such as M&A activities (whether by sourcing direct investment opportunities, or going through the process of selling the business itself)."
WealthBriefing Asia 2019 Award:
Family Office Management Consultancy

"This firm looks at the 'full balance sheet' of clients' affairs. It delves into the issues facing wealthy families, and understands there is often no real split between business and personal wealth."
The Asset AAA 2019 Awards:
Best Boutique Wealth Manager, Hong Kong

"LCA's pioneering business model has caught on in the industry. During the award period it has maintained its competitive edge and is focused on expanding its capabilities."
Private Banker International 2018 Award:
Best Family Office Proposition in Greater China

"Massive props to you guys in LCA Asia for being one of the most influential Family Office in Greater China, always putting on a great fight against the dominating giants in Greater China! Congrats!"
WealthBriefing Asia 2017 Award:
Independent Wealth Manager in Asia

"This winner impressed judges for the way they go 'over and above' in servicing customers' needs, and for continually seeking to improve standards further."
WealthBriefing Asia 2017 Award:
Outstanding contribution to Wealth Management Thought Leadership
Philippe Legrand

"To succeed in this category requires a combination of insight, experience and a commitment to presenting often game-changing modelling. Our winner has demonstrated all of these characteristics with great success."
A long standing Asian Recognition
Best Family Office 2020 award from Private Bank International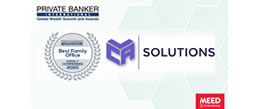 Best Family Office Wealth Advisory Offering 2020

Best Independent Wealth Manager2020

Best Family Office Management Consultancy 2020

Best M&A Advisor 2020

Outstanding Independent Wealth Management – Overall 2020

Best Family Office APAC 2020

Best Family Office Offering 2020

Outstanding Family Business Advisory 2020

Best Family Office Management Consultancy Greater China 2019

Best Family Office Services Greater China 2019

Best Boutique Wealth Manager Hong Kong 2019
Best Family Office Proposition in Greater China 2018

Best Family Office Management Consultancy Asia 2018

Best Independent Wealth Manager 2018

Outstanding Contribution to Wealth Management Thought Leadership 2018

Best Boutique Wealth Manager Hong Kong 2018

Best Family Office Proposition in Greater China 2017

Outstanding Contribution to Wealth Management Thought Leadership (Individual) Philippe Legrand 2017

Best Independent Wealth Manager Asia 2017

Best Boutique Wealth Manager Hong Kong 2017

Best Private Investment Office Multi Family Office 2016

Best Independent Wealth Manager 2016

Outstanding Contribution to Wealth Management Thought Leadership 2016

Best Family Office Proposition in Greater China 2016

Best Boutique Wealth Manager Hong Kong 2016

Best Multi Family Office 2015

Best Independent Wealth Manager 2015

Wealth Management Specialist, Hong Kong 2015

Best Independent Wealth Manager 2014

Lifetime Achievement Sanam Ramchandani 2014

Wealth Management Specialist, Hong Kong 2014

Best Independent Wealth Manager Asia 2013

Outstanding Contribution to Wealth Management Thought Leadership 2013